I work with individuals who struggle with anxiety and low self-esteem.
I train them to step outside of their comfort zone through fun exercises.

That way, they learn to go after their goals and dreams with confidence.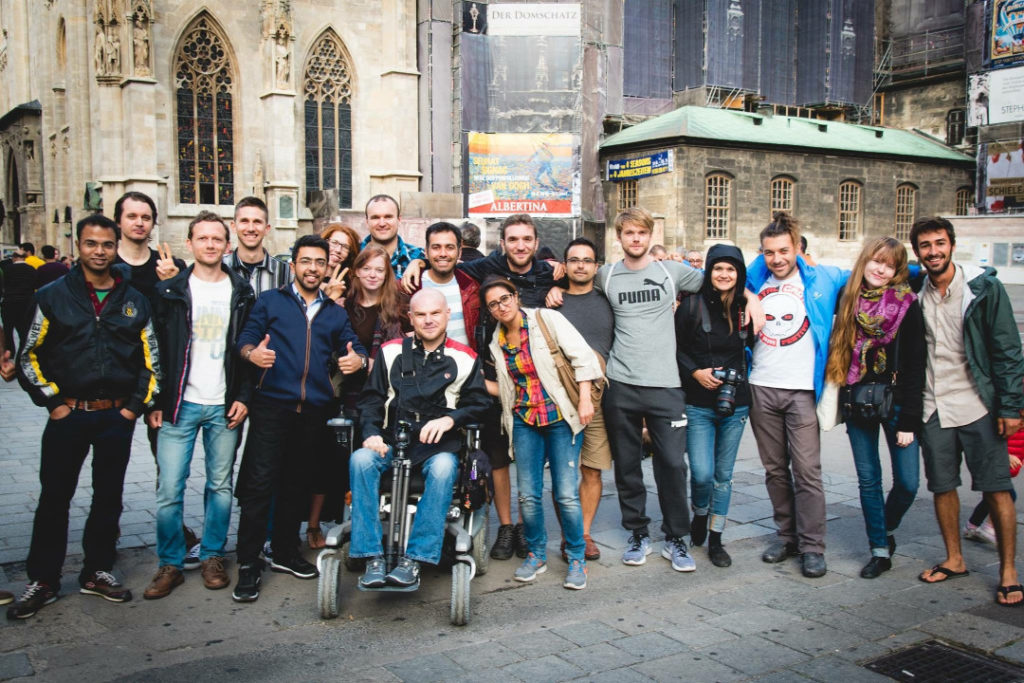 Where Do YOU Want a Confidence Boost?
When I was a toddler* the doctors told my parents that I have a muscular condition called Spinal Muscular Atrophy – and that I wouldn't live a normal life.
It was a long and somewhat bumpy road, but at some point in my life I finally realized something:
I did not achieve the things in my life despite my challenges. I achieved them because of it.
In a previous life, I was a character animator working on award-winning movies and TV shows like The Penguins of Madagascar and Kung Fu Panda.
That was before I realized that helping people live a meaningful life is much more rewarding than making Saturday morning cartoons.
Many years later, my parents still agree with the doctors in that I'm not living a normal life.
Michael Herold helps people who struggle with confidence and low self-esteem to overcome their anxiety.
Living with a neuromuscular condition, he spent the first 30 years of his life feeling deeply insecure. Based on what he learned himself, he is now using fun exercises grounded in behavioral science to help others step outside their comfort zone and find their confidence.
In the past five years, he has worked with over 2,000 people, including entrepreneurs, special forces, actors, stunmen, parents, and kids.
The Art of Charm podcast he co-produces has over 250 million downloads and features bestselling authors, the world's leading psychologists, successful entrepreneurs, and once, even himself.
He is also the Strategic Consultant for the Psychologists off the Clock Podcast, a show focused on mental health and hosted by three clinical psychologists.
Michael has spoken about finding courage and chasing your dreams at TEDx, in front of members of parliament and once in a cinema with 500 kids high on sugary popcorn.
He is also presenting on psychological topics like social anxiety (ACBS World Conference), the Imposter Syndrome (Anxiety and Depression Association of America), values-based living (DGM), and conversation techniques (Wise Minds Summit).
Michael is the current President of the Association for Contextual Behavioral Science (ACBS) ACT Coaching Special Interest Group with over 750 members. He's also leading the ACT in Austria Affiliate of ACBS, a nationwide meetup for ACT practitioners in Austria.
In a previous life, he has been a character animator working on award-winning movies and TV shows like The Penguins of Madagascar and Kung Fu Panda. This was before he realized that helping people to live a meaningful life is much more rewarding than creating Saturday morning cartoons (even though the long nights in the studio allowed him to brew his own beer in the office closet).
Michael grew up with five foster kids that were all taken out of abusive families. His foster sisters showed him how much positive change is possible in a person if they have the love and support they need.